This Fortnite training facility would be make for an awesome Block
Throughout all of the different designs on The Block, each one has offered something new. 
We've had overgrown factories, crazy tall pyramids, and giant mechanical llamas. For a list of all the different designs on The Block, check out our rankings here.
Plenty of other amazing designs have been submitted to The Block but haven't been featured in the game.
One such submission comes from Robert Allred. He has created a practice facility for a professional Fortnite team.
The map features a full complex complete with cafeteria, meeting spaces and plenty of different training grounds.
Included in the training grounds are an outdoor parkour course, a 1v1 building room, a shooting range, a material room, and a turtling and editing room.
There are even a computer lab and six bedrooms to fill out all the details on the facility.
Here's a video from Allred's YouTube channel giving a full tour of the space:
The Llama logos really tie the whole thing together and give it the authentic feel of an actual sports training compound.
This design hasn't been chosen for The Block but if people want to check it out and try the parkour speed run the Island Code is 8984-5246-6426.
This is Allred's first attempt at a Block design but he did have a featured island that provided a bunch of areas for players to do 1v1s against each other and keep score.
That island was featured in this article and the Island Code for it is 8321-8699-6639.
Do you want to see this Fortnite Training Facility on The Block soon?
Fortnite Island Hopper quests: How to collect 50 Gold Coins in Ultimate Murder Mystery
The No Sweat Summer event in Fortnite has arrived with Creative challenges. By completing them, you can get a ton of XP and free cosmetic rewards.
The No Sweat Summer event in Fortnite Chapter 3 Season 3 has begun. Players can complete Island Hopper quests in Creative for some XP and free cosmetics.
Fortnite Chapter 3 Season 3 has a Vibin' theme, and nothing suits it better than a goofy summer event. Even though Epic Games is yet to add summer-themed elements in Battle Royale, Creative mode already has six unique maps.
One such map is Ultimate Murder Mystery, and the goal is to get 50 Gold Coins from it.
Tips to get 50 Gold Coins in Ultimate Murder Mystery in Fortnite
It is worth noting that you have to either get 50 Gold Coins in Ultimate Murder Mystery as an Innocent or get five Melee eliminations as a Hunter or Sheriff. The reward will be 10,000 XP regardless.
Getting the 50 Gold Coins is much easier because the map offers a daily present that has 25 Gold Coins. This means that you can complete the challenge by simply entering the map for two days and opening the box.
However, if you wish to complete the Island Hopper challenges as quickly as possible, just enter a game and find Gold Coins scattered all over the place.
Completing tasks and getting eliminated also grants Gold in Ultimate Murder Mystery which is why a few games should be more than enough to get the XP reward.
How to get five Melee eliminations in Ultimate Murder Mystery in Fortnite
The melee eliminations challenge can be completed only when players play as a Sheriff or a Hunter in Ultimate Murder Mystery. However, doing so is much harder than the previous task.
This is because every opponent will be running away from the Hunter and the Sheriff on the map. Basically, it's like a game of Among Us in which completing tasks as a Crewmate is definitely easier than planning murders as an Imposter.
All in all, getting XP from Island Hopper quests in Fortnite v21.10 is not that tiring. Anyone struggling to level up the Battle Pass can rely on them.
Fortnite No Sweat Summer event 2022: Release date, XP challenges, and more revealed
Fortnite will host a No Sweat Summer event in Chapter 3 Season 3. It will arrive in the 21.10 update with new challenges and free rewards.
Following weeks of anticipation, Epic Games has finally confirmed the No Sweat Summer event in Fortnite Chapter 3 Season 3. Yet again, players will have to hop in Creative mode to get free cosmetics.
Fortnite Chapter 3 Season 3 has a "Vibin' theme and it makes perfect sense for Epic Games to include a summer event in it. It will not only help players gain XP but will also allow them to take some time off from the sweaty battle royale gameplay.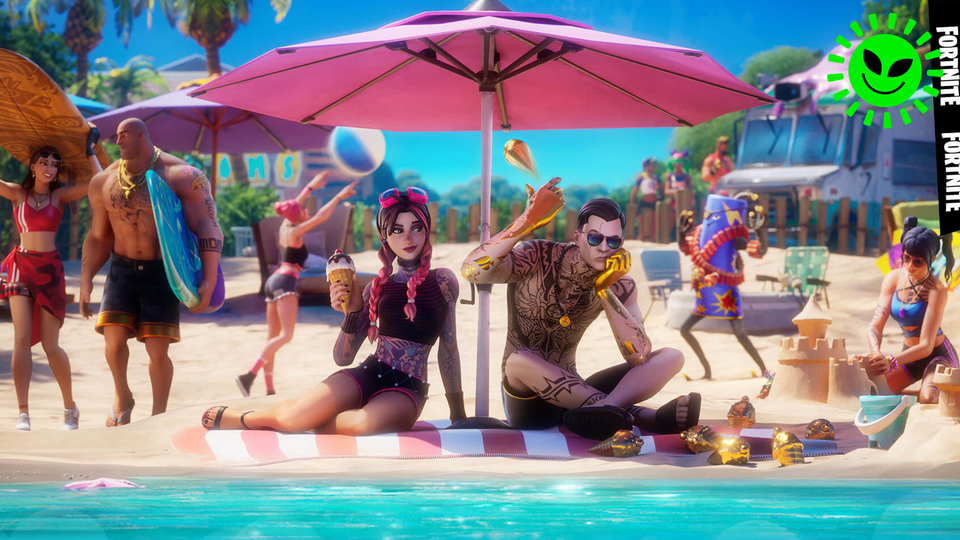 Here's everything we know about the upcoming No Sweat Summer event in Fortnite Chapter 3 Season 3.
Fortnite No Sweat Summer event 2022 will grant XP and free cosmetics
Fortnite v21.10 will be the first major update for Chapter 3 Season 3, and it is all set to release on June 21, 2022. However, this should not be treated as the start date for the summer event.
According to credible leaker iFireMonkey, the event will take place in Creative mode. Loopers will have the freedom to play on six unique maps and this time around, they will be different from the standard Red vs Blue maps. Instead, you can expect to take part in death runs and summer-themed LTMs.
Taking part in the Creative games will reward players with XP which has clearly become a luxury in Chapter 3 Season 3. Moreover, there will be free cosmetics but leakers haven't clarified if the rewards will include outfits or just emotes, sprays, and harvesting tools.
Fortnite calls out creators to make summer-themed LTMs and games
It is evident that Epic Games wants to make the 2022 summer event as community-driven as possible. Creators around the world can create summer-themed islands and submit them before July 5. Hence, it is safe to assume that the event will begin on July 5 or later.
The developers will feature the best summer-themed maps in Discover during No Sweat Summer, and the guidelines explicitly mention that the gameplay should not include combat. The focus should be on light-hearted game modes like death runs, prop hunts, racing, and social deduction, among others.
All Fortnite summer events so far have revolved around Creative which is why the community wanted more Battle Royale content in 2022. iFireMonkey has neither confirmed nor denied the inclusion of Battle Royale quests in No Sweat Summer.
All in all, we hope that the developers surprise players by bringing back the Surfboards and adding some summer-themed quests.
Fortnite Creative 2.0: Release date, new features, and more
Apart from the tryhards, Fortnite has a massive community of map and game creators who are eagerly awaiting the release of Creative 2.0.
Fortnite Creative 2.0 will most likely change the way how players create their own games and islands. From new features to the release date, here's everything to know about the highly-anticipated feature.
Fortnite Creative 2.0, a.k.a. the Unreal Editor for Fortnite, has been in the works for a long time. Especially after the release of Unreal Engine 5, the community is having sky-scraping expectations from the mode.
Epic Games has repeatedly claimed that Creative 2.0 will literally revolutionize its Battle Royale game. It will use a new scripting language and should arrive in Fortnite Chapter 3 Season 4.
Fortnite Creative 2.0 will offer countless new functions, thanks to Verse
Prominent leaker HYPEX recently opened up on Creative 2.0 and stated that the current mode would look primitive in front of it. To make the most out of it, players will be expected to learn a scripting language called 'Verse'.
Leaker InTheShadeYT further disclosed a list of functions that will be available with Creative 2.0 and Verse:
Math calculations and algorithms
Debugging
Logging to the screen or to a file
Ability to create or destroy objects
Spawn entities (similar to how actors spawn in Unreal Engine)
Level streaming
Control in-game physics via speed, vectors, and velocity
Add and operate particle systems
Control audio, lights, gravity
Modify objects to change their appearance, composition, and animations
Play animations
Add, alter, or remove gameplay tags
Teleportation device
A device (timer) to start, save, load, pause, and resume
Vehicle spawner
Vending machine to spawn items
Script device
Control arrays and data types
Operate UI elements
Bind and map actions
Creature spawner manager
Decide what actions take place when a player looks away from another user or device
Sentry device to track players
Player spawner
RNG (Random number generator) system
Control over player inventories and their weapons
Custom HUDs
Scoreboard control
Add NPCs and control their actions such as emotes and dialog
Control over building
Cars
Live team and player stats
Create custom models
Item spawner
Storm controller
AI scripting
Surprisingly, according to the leaker, these features do not demonstrate the true potential of Creative 2.0. There are myriad other devices and functions that will be available to creators upon release.
While some players are excited to use the upcoming Fortnite Unreal Editor, others are intimidated by the coding language and long list of features. It is safe to assume that newbie creators with no knowledge of coding languages will have to devote some hours to get the hang of it.
Fortnite Creative 2.0 to have a Verse NPC feature
HYPEX also explained a Verse NPC feature that works like artificial intelligence. Players will be able to move it from one point to another and the AI will confirm if the point is reached, inaccessible, canceled, or unsupported.
Readers can expect more clarity on the aforementioned features as Chapter 3 progresses. They certainly sound complex, but considering Epic Games' approach so far, Creative 2.0 should benefit new as well as experienced creators equally.
Epic Games announced Creative 2.0 years ago but hasn't revealed much about it ever since. CEO Tim Sweeney has stated that the mode will be released towards the end of 2022, and it will also include economy systems to support the creators.
All in all, it seems like Fortnite is about to get bigger than ever with the release of Creative 2.0. While the Battle Royale mode might not be as popular in the impending years, Creative has the potential to make the franchise evergreen like Minecraft or Roblox.