Team Liquid's Vivid on qualifying for the World Cup and playing with 72hrs
Vivid was one of the first well-known players to lock up a spot in the Fortnite World Cup.
Normally players in esports have their spots in major tournaments or leagues pretty set in stone. Once you make it to the highest level, you are safe. Not in Fortnite.
The open nature of the Fortnite World Cup means that it doesn't matter how successful you had been in previous Fortnite events, you still need to master this meta and get invited to NYC.
Vivid secured his spot in the solo finals during the first week, other notable names to qualify were Ghost's Bizzle and 100T's Ceice.
In the duo finals of week two, NRG's MrsavageM and Benjyfishy plus Team Secret's Mongraal and Atlantis' Mitr0 were the most well-known groups to get through.
He recently did an AMA on Reddit and covered a wide variety of topics including his feelings on RNG in Fortnite, why he doesn't stream as much anymore, the transition from playing with Poach to playing with 72hrs and the state of Fortnite.
Here are some of the best questions and answers from the AMA:
Q from Ballatw: How do you stay so consistent in the long run in this game, when there are constant shouts of "this game is just RNG"? Do you agree with this sentiment, and why? If not – how do we counter this opinion within the community?

A from Vivid: Fortnite is all about replicating situations. The more practice you get and the more you play, the more situations you'll experience. There's RNG but technically there can only be a certain number of relatively similar situations. The best players will also prepare themselves for any situation and be the best at responding to said situations on the spot. RNG can suck but it can also not suck.
Q from iamnotkobebryant: Hey Vivid big fan! My question is, Are there any changes you made in your playstyle now that you duo with Tom rather than Poach?
A: The best part about switching duos, to me atleast, was establishing a play style with Tom. I don't feel like me and poach ever successfully changed our play style, even if we discussed it. So when me and Tom started to duo, we play instantly wanted to just keep trying stuff until we were comfortable with a play style that we felt like we could win with.

That being said, I feel like me and Tom are a tad more aggressive than Poach and I were. I also feel like me and Tom are much more willing to go for high ground than Poach and I were :).
Q from Syber234: You talked about it a little bit in your stream but are you planning on playing this week's solo quals? You touched a little bit about how you qualified already and didn't want to grief anyone's games. Maybe play in them but don't go for kills? What are your thoughts?
A: I'm in a tough spot mentally about playing the solos this weekend. I know that because I already qualified that I won't try my hardest in them. If I don't try my hardest then i could potentially end up playing bad which could lead to me messing up some others games. If I do play them, and feel like I'm potentially doing that in the finals on Sunday (On saturday I don't think this will be an issue since the games are pretty pup stompy anyway), I will most likely stop playing them and continue on with the idea of a viewing party.
Vivid is in a tough position if he plays because he could wind up in lobbies with Team Liquid teammates, presenting a possible conflict of interest. A viewing party is probably the safer bet but because Epic hasn't ruled against qualified players competing, he is free to play this week.
Q from themariokarters: How do you find the motivation to play a game that the developers don't care for, professionally? Is it just money?
A: It's a dream job, and I would feel dumb if I just quit because it's in a bad state right now. Just gotta continue to do my best.
Money obviously ALLOWS me to do this, but if I was making less I would still play. I love competing and it's been a dream forever. Money allows me to do it, but it isn't the drive behind it.
Fortnite pro Cented kicked out of FaZe Clan for using hate speech
Fortnite pro Cented is no longer a part of FaZe clan. He was caught saying a racial slur on stream, and has parted ways with the organization.
FaZe Clan has removed Cented from their Fortnite roster after the pro player used a racial slur on a livestream. Here's what's next for the aspiring Esports athlete.
When Evan 'Cented' Barron joined FaZe clan in March 2021, fans worldwide had sky-scraping expectations from him. To be fair, he did gain a ton of followers across Twitch and Twitter and significantly improved his skills as a pro.
However, the former FNCS finalist and Cash Cups winner has been kicked out by FaZe Clan for using hate speech.
Why did FaZe Clan permanently remove Fortnite pro Cented?
While playing Fortnite recently, Cented joined Twitch streamer nothellfire1's party and wasted no time in dropping a racial slur. It seems like he was not aware that nothellfire1 was live on Twitch.
This was followed by FaZe immediately announcing Cented's permanent removal from the clan for using hate speech. The post clearly mentioned how the Esports org is constantly evolving and there is no room for racial slurs/discriminatory language.
Soon after, Cented himself admitted to using the slur on stream and claimed that he should've known better. The streamer apologized to the Fortnite community and acknowledged his immaturity and ignorance.
He said, "Somewhere along the way I let my ego get the best of me."
Fortnite community reacts to FaZe Clan removing Cented
While some players are shocked that FaZe has parted ways with Cented instead of giving him sensitivity training, others like prominent leaker HYPEX did not hold back from making him aware of his mistake.
The mixed response from the Fortnite community is understandable, to say the least. It is fair for people to expect organizations to take rehabilitative measures, and it is equally justified for others to expect more maturity from adults like Cented.
This isn't the first time that Cented has faced consequences for his blunt behavior. Back in June 2021, Epic Games warned him for abusing a young player and recklessly ranting about the Battle Royale game on Twitter.
Incidents like the one mentioned above have played a major role in decaying the image of Fortnite's competitive community. Rather than being role models, the pros are infamous for being toxic and disrespectful.
Fortnite Champion Series Chapter 3 Season 3 start date and prize pool revealed 
Fortnite has announced the Champion Series (FNCS) for Chapter 3 Season 3 in which pros worldwide will compete for 3 million dollars.
The Fortnite Champion Series is easily the most anticipated competitive event every season. In Chapter 3 Season 3, the likes of Bugha, Clix, and Arkhram, among others, will battle it out for a prize pool of 3 million dollars.
Epic Games has finally announced the FNCS for Chapter 3 Season 3. This time around, the logo seems to have a tropical theme that matches the 'Vibin' season. The meta has also changed significantly, and it will be interesting to see how some of the most talented esports athletes have adapted to it.
Everything to know about Fortnite Champion Series (FNCS) Chapter 3 Season 3
Fortnite Champion Series for Chapter 3 Season 3 will begin on July 6 with 3 Qualifier rounds. The top five teams (Duos) from each round will directly advance to the FNCS Finals.
The qualifiers will take place till July 18 and the Semi-Finals will begin on July 21. As per Epic Games, the key to reaching the finals is Victory Royales and consistency. In the three Semi-Finals sessions, 6 Victory Royale winners and the top six consistent teams will move ahead.
The Finals will take place between August 12-14. There are two ways for a team to win the Fortnite Champion Series in Chapter 3 Season 3:
The first team to get three Victory Royales and earn 475 points will be declared the FNCS champion. This is called the Match Point.
If no team is able to acquire a Match Point at the end of 12 Finals matches, the duo with the highest points will win.
Chapter 3 Season 3 FNCS prize pool distribution
The prize pool for the Chapter 3 Season 3 FNCS is a whopping $3 million. However, it will be divided across several regions:
EU: $1,350,000
NAE: $690,000
BR: $240,000
NAW: $240,000
ASIA: $240,000
ME: $120,000
OCE: $120,000
The prize pool is different for each region, primarily because of Fortnite's prominence there. It is evident that the viewership numbers in Europe are much higher than in the Middle East and Oceania.
It is worth noting that fans should be able to unlock some free cosmetics by watching the matches. New FNCS-themed cosmetics also arrive in the Item Shop.
All in all, it is safe to assume that the Fortnite Champion Series for Chapter 3 Season 3 will be more exciting than ever. A ton of new features and weapons have arrived recently, and even map changes have been quite frequent.
Fortnite star SypherPK quits Zero Build tournament after losing to cheaters
The Zero Build tournaments in Fortnite have been hijacked by cheaters, and streamer SypherPK eagerly wants Epic Games to fix it.
Fortnite veteran SypherPK has always been vocal about cheaters and stream snipers in the community. The streamer's latest encounter with hackers in a Zero Build tournament compelled him to quit.
Multiplayer games, especially Battle Royales, have always had trouble with cheaters. Brilliant titles like Apex Legends and Call of Duty Warzone became unplayable owing to the rise of hackers and have lost innumerable players so far.
From the looks of it, there has been a surge of hackers in Fortnite Chapter 3 Season 3 as well following the introduction of Zero Build mode.
Fortnite pros are encountering more hackers than ever in Zero Build tournaments
Fortnite caught a second wind with Zero Build as a ton of new players joined the community. Moreover, big names like Ninja, Dr. Disrespect, and Tfue returned to the game and appreciated the non-sweaty mode.
The developers then hosted Zero Build tournaments that received an overwhelmingly positive response initially. However, hackers have now plagued such tournaments.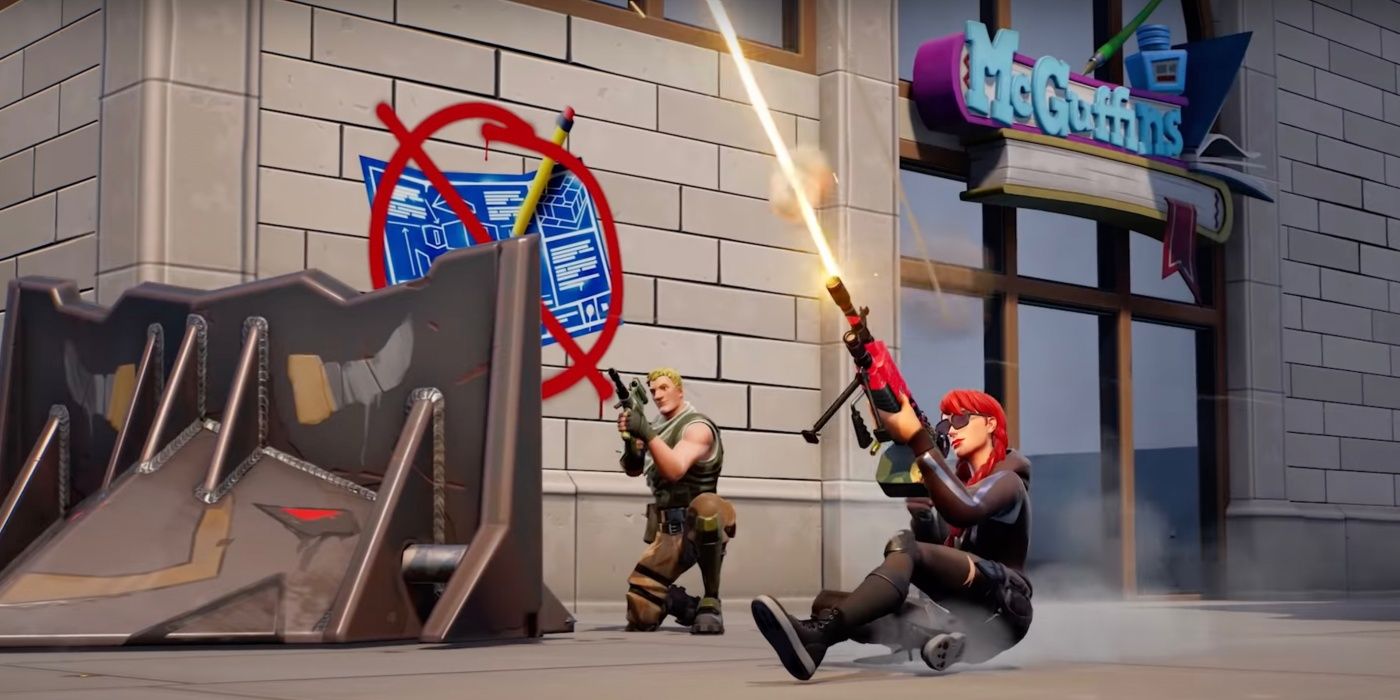 SypherPK recently took part in the NA West Zero Build finals and he was well aware of the fact that some teams are abusing aim bot and wall hacks.
Soon after, the streamer reported that hackers eliminated him in the very first game. It is no surprise that this incident led to him quitting the cup. He asked Epic Games to work on a live bans feature or atleast a new anti-cheat system that is dedicated to competitive playlists.
Zero Build mode in Fortnite has helped in exposing cheaters
Previously, Fortnite compelled players to build which significantly increased the skill gap between newcomers and veterans. On one side, there were players with the skill set to make a skyscraper within 30 seconds. On the other end of the spectrum, there were beginners who struggled in every game because the SBMM system rarely matched them with equally skilled/experienced players.
Amidst such issues, we are witnessing the growing use of cheats and devices like the Cronus Zen. This allows cheaters to win more comfortably than ever, but naturally, at the cost of the ruined experience of every player they face.
Until Chapter 3 Season 1, it was harder to track cheaters because mechanics like building and editing were an integral part of the meta.
In contrast, aim and mobility are the deciding factors of a Zero Build game. Accordingly, players can now easily identify cheaters using aim bots and wall hacks.
Countless other players, streamers, and pros have similar opinions on the current state of Fortnite and Epic Games would certainly want to come up with a solution before the Cash Cups commence in Chapter 3 Season 3.