How to get the female Midas 'Marigold' skin in Fortnite
Female Midas is finally in Fortnite with the Marigold skin and Golden Touch pack. Here's how to unlock it and earn 1,500 V-Bucks.
Finally, at the end of Fortnite Season 5, players can purchase the much-requested female Midas 'Marigold' skin. Here's how to get it and how to complete the associated challenges.
Ever since Fortnite Season 5 was released, players have been asking for a female Midas skin. Data miners found the loading screen in the game files, and most players assumed it would be one of the Fortnite Crew pack rewards during the season.
On March 8, Epic finally released the skin to the Item Shop. Here's how to get it and how to complete the challenges for a 1,500 V-Buck reward.
Female Midas Golden Touch bundle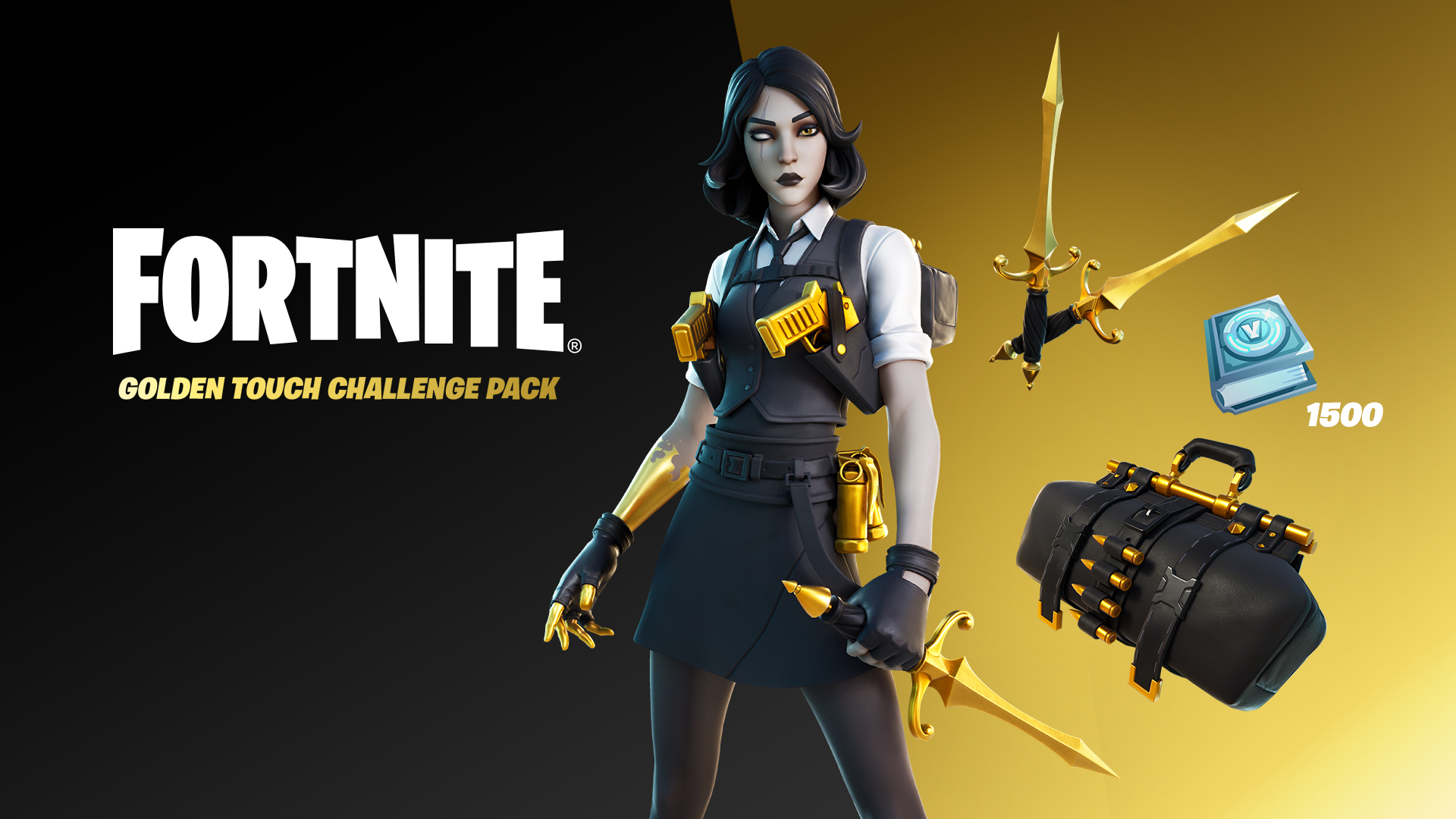 The Golden Touch skin bundle, as its called, includes the reactive Marigold outfit, the Golden Daggers pickaxe, the Golden Gambit back bling, and a list of challenges worth 1,500 V-Bucks. This will cost $11.99 to purchase from the Item Shop.
The Marigold skin is reactive and turns gold when you eliminate players. The more players that feel your wrath, the more complete Marigold will look.
The V-Bucks, alone, justify the purchase if you need to load-up before the new season, but you have to make sure to complete the challenges.
Marigold challenges
Like other skins in the past, Marigold will have daily challenges that unlock V-Bucks. The first day's challenges require you to complete Uncommon or Rarer skins – an easy task if you still haven't finished last week's list of Epic challenges.
The other challenges will follow a similar pattern, requiring players to complete challenges for higher rewards each day. These will start with 100 V-Bucks and work their way up to 500 by the fifth day.
With another seven days before Season 6, we should have enough time to top-off our V-Bucks for the next Battle Pass – especially if you purchased this one. We'll keep you posted when the Week 15 challenges go live, and give you everything you need to know to complete them – along with the Marigold challenges.
Image Credit: Epic Games
Fortnite x Kaws collaboration confirmed to bring a new Peely skin
American artist Kaws has announced another collaboration with Fortnite. This time around, loopers can expect a Peely reskin in his style.
Kaws and Fortnite collaborated during the Chapter 2 Season 8 Fortnitemares event that brought four Skeleton outfits to the Item Shop. The artist has teased his return in Chapter r3 Season 3 and has most likely worked on a Peely reskin.
The first collaboration between Kaws and Fortnite was a massive hit. Fortnitemares was the perfect occasion for the artist to introduce his characters to the Battle Royale game.
Leakers were anticipating that a new crossover with a renowned artist will be announced tomorrow, but Kaws himself has confirmed it beforehand.
Kaws confirms his return to Fortnite through an Instagram post
Kaws recently posted an image with a card that says, "Dear Fortnite, see you soon". What's more interesting is the fact that a banana is placed beside the card.
It wouldn't be an overstatement to say that Peely is one of the, if not the most popular character in Fortnite. The walking banana was first introduced as a meme in Chapter 1 Season 8, and countless variants have arrived ever since. These include Unpeely, Agent Peely, Frozen Peely, and Peely Bone, among others.
A few minutes before Kaws confirmed the collaboration, leakers iFireMonkey and Shiina had these things to say about an upcoming Fortnite collaboration:
A collaboration with a prominent artist will be announced tomorrow.
A well-known Fortnite character will get a new style from the artist.
Alongside the skin, there will be a back bling, a wrap, and a glider.
The collaboration files will be decrypted tomorrow while the skins will arrive in the Item Shop 2-3 days later.
It is fairly easy to join the dots now. A Kaws x Fortnite collaboration is imminent and Peely is the 'well-known' character who will receive a skin style. Having said that, the release date of the skin is still uncertain.
Considering that Peely already has a skeleton style (Peely Bone), it will be interesting to see how Kaws has redesigned the character this time. It is worth noting that according to the lore, Peely is not a single character but a tribe.
Fortnite leaks reveal free Major Mancake skin coming in Chapter 3 Season 3
Fortnite leakers have discovered a new Mancake skin in the files called Major Mancake that players can unlock for free in Chapter 3 Season 3.
Mancake, literally a man with a pancake head, is one of the most popular Fortnite characters. He has received a 'Major' upgrade in Chapter 3 Season 3 and you can get the skin by completing five Fall Guys' Crown Clash challenges.
Mancake and his unreal adventures in Butter Barn are quite famous among Fortnite players. The character has been on the island since Chapter 2 Season 5 and has played a significant role in the storyline repeatedly.
Here's a preview of the upcoming Major Mancake skin in Fortnite Chapter 3 Season 3.
How to get Major Mancake skin in Fortnite Chapter 3 Season 3
To be fair, the Major Mancake skin isn't a noteworthy upgrade to the original skin. There are minor differences in the the outfit's color scheme and the head is now more pancake-like.
Here's a comparison between the original Mancake skin and the leaked Major Mancake skin:
The decrypted Major Mancake set also has the following items:
Stacked! spray
Sweet Clementine pickaxe
Stacked with Love emoticon
Waffler backbling
Leakers have reported that the emoticon and the spray do not have a source, which hints at Major Mancake being a promotional cosmetic.
Considering that Epic Games is about to announce the Fall Guys crossover in a few hours, it is safe to assume that Major Mancake will be a free reward from the Crown Clash challenges.
There will be five Crown Clash challenges and loopers will have to play a total of 100 Fall Guys shows to avail of all five free rewards.
Why Major Mancake could be a free Fortnite x Fall Guys reward
Leakers have discovered that the upcoming Fall Guys challenge will have five stages and the Major Mancake set comprises five cosmetics. These skins, sprays, and emoticons do not have Item Shop assets, and the pickaxe appears to have a Promo source.
Having said that, it doesn't make a lot of sense for none of the Fall Guys x Fortnite rewards to be Fall Guys themed. Mancake is an original Fortnite character and has no relation with Mediatonic's Battle Royale game.
We'll make sure to update this article when Epic Games officially reveals Major Mancake and the procedure to get the skin.
UPDATE: Leakers have confirmed that Major Mancake is a promotional reward for Fortnite x Fall Guys. The order in which players can get the skin for free is:
10 Fall Guys Rounds: Stacked! Spray
20 Fall Guys Rounds: Stacked With Love Emoticon
40 Fall Guys Rounds: Sweet Clementine Pickaxe
70 Fall Guys Rounds: Waffler Backbling
100 Fall Guys Rounds: Major Mancake Outfit
Fortnite reveals new July Crew Pack skin
Another month, another Crew pack releases in Fortnite and this time around it comes with an additional surprise. Here's the latest on this month's Crew Pack.
Fortnite Crew skins hold their exclusivity as these in-game cosmetic usually do not arrive to the item shop and are availed by those who additionally purchase the pack. However, this time around it arrives with an exclusive Save The World access that is pretty unusual for a Crew Pack to feature other than the traditional V-Bucks and a Battle Pass.
With the release of Chapter 3 Season 3, players saw the arrival of several characters and new outfits in the Battle Pass that they have been waiting for. From Darth Vader to Indiana Jones, loopers are enjoying the grind to unlock their favorite skins in the Battle Pass and also purchasing the newest Naruto Collab skins from the Item Shop.
However, apart from the traditional Item Shop cosmetics, this time around players seem to love the Save The World Skate Park Royalty pack and are not hesitating to cop the exclusive outfit. Although, some were still waiting for the Crew Pack to hit the Item Shop to make their choice between the two as the latter offers a hefty amount of V-Bucks and the season's Battle Pass.
As loopers saw some major changes arrive in the v21.10 update last week, Epic announced its July Crew Pack cosmetics which come with the usual combo but this time around, also comes with an exclusive Save The World access to subscribers.
Phaedra arrives to the island with July Fortnite Crew Pack
Fortnite July Crew pack brings 'A dark sea witch with unknowable power' to the game. Phaedra hits the Item Shop on July 1st with the rest of the crew pack bonuses subscribers usually get.
The July Crew pack features a Phaedra outfit with an additional selectable style, a Ceph back bling that looks like a squid, an Inky Reflection Loading Screen, a Gothic Shadesoarer glider and a Stygian Parasol pickaxe, both of which resembles an umbrella. In addition to those subscribers will get a free Battle Pass, 1000 V-Bucks and an exclusive access to Save The World PVE campaign.
Moreover, players who already own the Battle Pass, will be getting 950 V-Bucks back in addition to the 1000 V-Bucks as a Crew Pack Bonus. For $11.99, this crew pack offers a lot more than its value and is bang for the buck for those who want to purchase it or subscribe to it.
However, loopers can also subscribe to the current Mecha Strike Commander Crew Pack to get both the cosmetics of June's as well as July's crew packs right in their lockers, with the V-Bucks and Save The World access the latter promises.