Fortnite survey teases Dragon Ball Z, FNAF, Spongebob, One Piece, and other crossovers
A recent Fortnite survey has suggested that Luffy from One Piece, CJ from GTA, and Spongebob will soon arrive as skins in the Item Shop.
The latest survey sent by Fortnite has teased upcoming collaborations with lifestyle brands, anime series, musical artists, and TV shows. These include Dragon Ball Z, Jujutsu Kaisen, Spongebob, Pokemon, and many other renowned franchises.
Fortnite's metaverse is as dynamic as it gets, all thanks to crossovers. The game offers over a thousand skins and cosmetics to its players that vary from John Wick to Naruto.
It is safe to assume that crossovers will frequently occur in Chapter 3, and here's what players can expect based on the latest survey.
Fortnite survey teases a ton of upcoming collaborations in Chapter 3
As usual, the survey sent out by Epic Games asked players about their pop-culture preferences. Respondents simply had to reveal if they had seen or heard about a certain movie, pop culture character, comic series, musician, and video game character.
Here's a list of all the options in the survey in which you will most likely find your favorite character, game, show, or movie: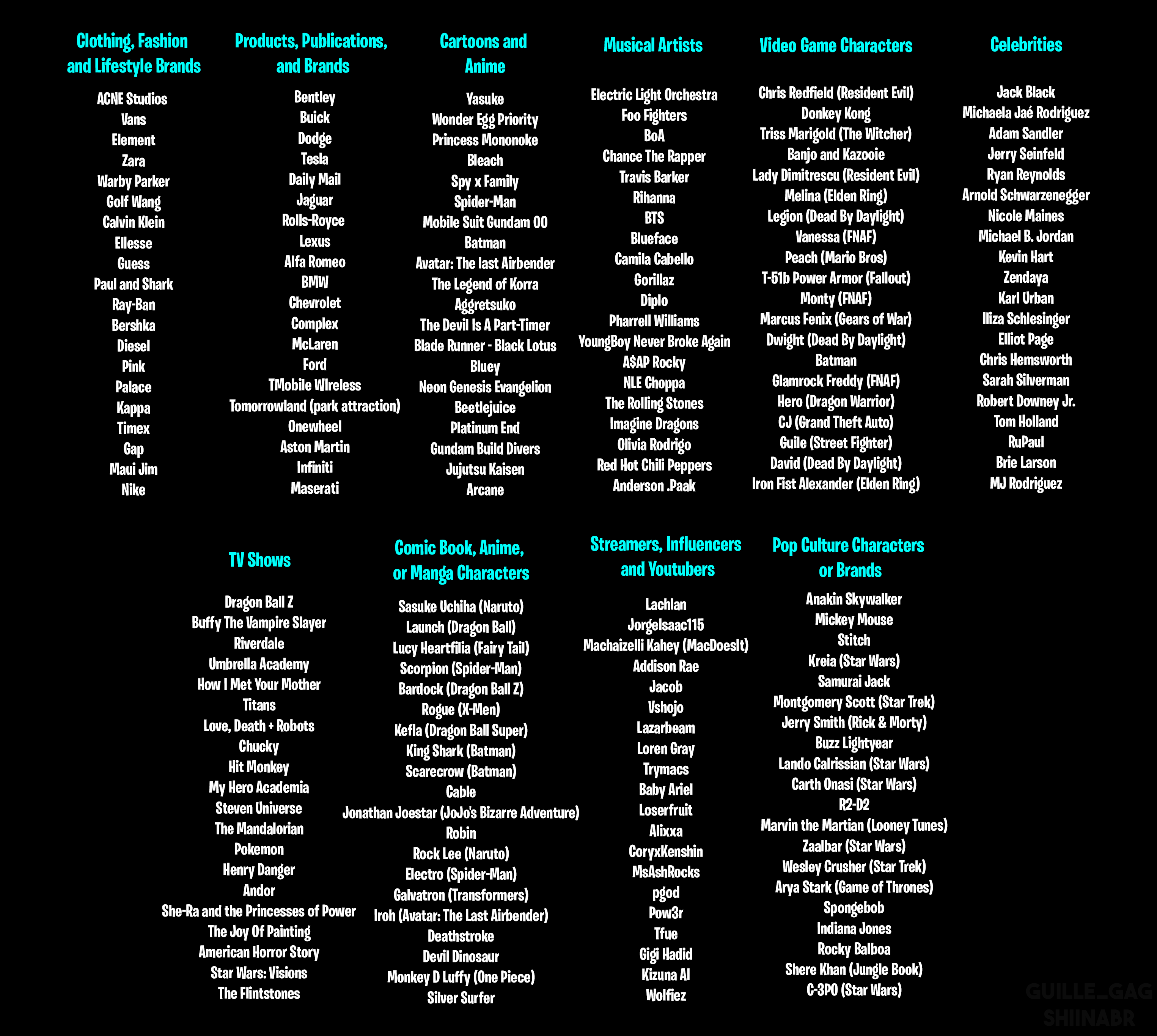 It is worth noting that none of the crossovers mentioned in the survey are confirmed. However, in the past, such surveys have always laid the foundation for potential collaborations as Epic Games uses them to evaluate the community's expectations.
Fans worldwide are eagerly awaiting the Five Night at Freddie's crossover. Characters like Monty and Glamrock Freddy have been a part of previous surveys, and this time around, we can witness Vanessa as well.
It is no surprise that a ton of prominent anime series have made it to the survey. Team 7 from Naruto was one of the biggest hits in the Item Shop. Fortnite x Naruto: Rivals! is already in the works, and it makes perfect sense for Epic Games to now focus on equally popular series like One Piece, Dragon Ball Z, Jujutsu Kaisen, and others.
As for musical stars, fans have spotted the likes of BTS ( this one might take a while now), Rihanna, A$AP Rocky, and Chance the Rapper, among others.
Fans surprised as Fortnite survey excludes Family Guy and Juice WRLD
Musical concerts have always been spectacular in Fortnite, and leaks have suggested that the next concert will feature Juice WRLD. The singer's managers have apparently signed an NDA but they've repeatedly teased the crossover.
Many fans believe that Juice WRLD isn't a part of the latest survey because the concert is already bound to happen. This could also be the case for Family Guy. The animated show is a massive hit and even leakers have teased Peter Griffin's arrival in Fortnite on several occasions.
All in all, it is evident that collaborations in Fortnite are about to get bigger and better with Chapter 3.
Fortnite leaks confirm Beerus, Goku, and Vegeta skins for Dragon Ball Z crossover in Chapter 3
Anime fans in the Fortnite community are waiting for the Dragon Ball Z crossover, and leaks have confirmed that it will bring in Beerus.
Fortnite v21.30 update introduced a ton of new content and the files now have more Dragon Ball Z elements. From skins for Beerus, Goku, and Vegeta to a Bulma reference, here's everything we know so far.
Fortnite players were certainly shocked when they came across leaks regarding a Dragon Ball Z crossover. Both waves of the Naruto cosmetics were a massive hit in the Item Shop and it is evident that the developers now wish to capitalize on other popular anime series.
Leaks previously revealed that four skins will arrive in the first-ever Dragon Ball Z x Fortnite crossover, and one of them is going to be Beerus.
Fortnite is working on a Beerus skin for the Dragon Ball Z crossover
As per prominent leaker HYPEX, Epic Games is working on a purple skin codenamed 'Cat'. For anyone who's watched Dragon Ball Z, this isn't a tough one to crack. Beerus, the god of destruction of Universe 7, perfectly fits this description.
With this, three skins have been confirmed for the upcoming DBZ crossover:
The fourth skin will be a female character according to leaks, and it is safe to assume that it will be Bulma.
Following the v21.30 update, HYPEX discovered that one of the Fortnite x DBZ quests will have a beach umbrella setup. This could be a reference to many things like the Kame House, Bulma, or Beerus but it is too early to confirm it.
The Creative Stamina item that started all the rumors about the crossover will also be available on the map. It might be a part of some quests or the developers might just tease the crossover through it.
Last but not least, the Attack Pods from Dragonball will arrive as Gliders in Fortnite. The 21.30 patch added a glider texture with a striking resemblance to these pods and even its codename, StaminaVigor, suggests that it is related to DBZ.
Fortnite x Dragon Ball Z crossover to have a special event screen, quests, and rewards
It seems like the DBZ crossover will be quite similar to Naruto. Players can look forward to taking part in challenges that will grant them free DBZ-themed skins. Obviously, this will be accompanied by Goku, Vegeta, and Beerus outfits in the Item Shop.
The official website for the DBZ crossover is in the works. It should become functional by August, which is also when Epic Games will officially announce the collaboration.
As of now, this is everything we know about the upcoming DBZ x Fortnite crossover. The next update for Chapter 3 Season 3 will be out after four weeks, and until then, players can enjoy the new summer-themed content.
Fortnite x Dragon Ball Z collab is coming in Chapter 3 Season 3 according to leaks
With Fortnite v21.20, Epic Games has added some Dragon Ball Z capsules to the files. This could mean that a Goku skin is finally coming.
Leakers have finally found evidence that hints toward a collaboration between Fortnite and Dragon Ball Z. Here's what anime fans should expect out of it.
It wouldn't be an overstatement that Naruto was one of the biggest crossovers in Fortnite's history. Epic Games rolled out two waves of Naruto cosmetics, and fans loved them equally.
While fans of Naruto are more than satisfied with the emphasis on anime skins, fans of other series like One Piece, Bleach, and Dragon Ball Z have always complained about the ignorance towards their favorite characters.
Fortnite adds Dragon Ball Z capsules in the v21.20 update
With the latest v21.20 update, Epic Games added a new Stamina Prop to Creative which appears to be a replica of Capsule Corp from Dragon Ball Z.
The logo and the color scheme of the prop is identical to the ones we've seen in the anime series. Moreover, HYPEX revealed that it has outlines like other anime cosmetics.
While the Capsule Corp prop is the only Dragon Ball Z element we have in Fortnite, it is enough to ignite the hopes of fans around the world. Goku is easily one of the most popular fictional characters ever, and it makes perfect sense for him to be a part of the battle royale game after Naruto.
There are some skins in the files that are still encrypted. Hence, it wouldn't be a surprise if one of them is Goku.
What to expect from Fortnite x Dragon Ball Z in Chapter 3
Capsule Corporation in Dragon Ball Z is a company founded by Dr Brief who is Bulma's father. Capsule Corp Goku is quite popular among fans, and we might see him as a skin in the Item Shop.
Considering that Naruto arrived with Creative and The Nindo challenges, it wouldn't be a surprise if Epic Games comes up with something similar for DBZ. To be fair, both Naruto and DBZ are two of the most popular anime series out there. Fans would love to purchase the skins from the Item Shop, but free rewards are equally desirable.
The likes of Goku, Vegeta, Frieza, and Broly should become a part of Fortnite once the crossover becomes official. However, it is uncertain if it will take place in Chapter 3 Season 3 or later. This is because Naruto was a part of the files from Chapter 2 but was officially added after months of anticipation.
Having said that, Dragon Ball Super: Super Hero is coming to the US and Canada on August 19, which could very well be the date for the crossover as well.
Fortnite tournament bug grants $2000 and 1000 V-Bucks to every participant
A recently announced Fortnite tournament accidentally promised major rewards to each participant. Here's how it went down.
Fortnite hosts weekly tournaments that promise major rewards to their player base in the form of cash prizes or in-game cosmetics. A tournament that was recently announced for its European Player Base accidentally revealed rewards that were being promised to each participant.
The competitive side of Fortnite still grows stronger every day as the game introduces its player base to different modes and unique tournaments that offer some hefty rewards to winners. Players ranging from amateurs to sweats compete against each other to level up their skill and prove their mettle in the competitive community.
Newer pros emerge in every tournament who challenge these OG sweats and grab the victory royale right from their hands in neck-to-neck situations. While several veterans continue to crib about the game and what Fortnite used to be, the new generation of pros adapt to the game mechanics and evolve their skills with every tournament.
The launch of Zero Build in Fortnite Chapter 3, opened doors for the Zero Build tournaments and several such contests to appear in front of the competitive community. Amongst those, a test event which is currently listed in the compete tab for EU players, shows rewards being granted to each player bagging 1 point in the tournament.
Whiplash Test Event accidentally promises rewards to every player securing one point
Fortnite recently announced a bunch of tournaments for its player base ranging from Jewel Rush (Fives) to Money Wars (Solos), Whiplash (Duos), and Finest's Realistic 2v2 Event. Amongst those, a description of Whiplash Test Event promised rather bizarre rewards that the community was left in disbelief.
The rewards for the Test Event showed players who secure 1 point throughout the entire tournament will be rewarded with a whopping $2000 and 1000 V-Bucks in their Epic Account. Now even in the wildest of imaginations Epic would never reward the entire player base with such a hefty reward.
Upon seeing the news about this bug, the player base on Twitter went crazy and can only wish for this to be true. Moreover, they speculate that Epic will be removing these rewards and fixing the bug once v21.20 drops later tomorrow.
As tournaments continue to pile up on the compete tab, players can now gain rewards from Arena by leveling up with their Hype points. The rewards range from wraps to emoticons that can be secured by Arena players as they tier up amongst the league in their competitive journey.