Fortnite Season 4 FNCS Week 2 final results
Week 2 of the Season 4 FNCS has concluded. Take a look at all of the teams who qualified in EU, NA-East, and NA-West.
The Season 4 FNCS Week 2 tournament has wrapped up, bringing us some newly qualified teams along with some who are padding their season point total and trying to enter the tournament that way.
Every time a team qualifies for the finals more than once, they add another spot to the "series point total" qualification method. NA-East, in particular, had a ton of double qualifiers in week 2. With this being such a stacked region, we expect to see this happen again in Week 3.
Ahead, we'll take a look at the final placements of the three most popular regions in Fortnite esports: NA-East, NA-West, and Europe.
Europe FNCS Week 2 results
Rams KeziixZ, Grizi 4zr, and GRIZI Nayte won the European region of the FNCS Week 2 for the second week in a row. They finished with 239 points, 31 points above EP Queasy, GXR Milаn, and сhapix 74 in second.
Mongraal, Mitr0, and Tayson showed early consistency, finishing third in the event after a top-three finish last week, as well. Some first-time qualifiers include Teeq's, Kubx, and Setty along with Flikk, Аnas, and Th0masHD.
Rams KeziixZ, Grizi 4zr, GRIZI Nayte
EP Queasy, GXR Milаn, сhapix 74
FaZe Mongrааl, f1-f2-f3-f4, deal with tayson
Spectrum Setty, Spectrum Kubx, GXR teeq
SF Rakso, Gamma Kami, artör
BL Hеn, GO Decyptos, NaVi Putrick
GODSENT znap1e, MichaelFindSMZ, GODSENT wkey
SNAPEMON, MIROOOOOOOOOOOO., wаve swag
Safik ., VP Siberiajkee, lREZUMl
Flikkㅤ, BL Аnas, Gamma Th0masHD
TrainH Umplify, Adnsoefy, TrainH Matsoe
E11 Refsgaard, vitality stompyx, SkraminatorHD
MCES and1zr, Wave JannisZ, MCES duckontop
ATX BlastR, Vitаlity Nikof, TrainH Alphaa
snaggedemon, yztaeh, wave steeli
NA-East FNCS Week 2 results
One of the longest-running duos, Zayt and Saf, took home first place in week 2 with fellow teammate Stretch – landing at Doom's Domain without using their favorite weapon – Doom's Mystical Bomb. They won with a whopping 227 points – 30 points above Jamper, Bugha, and Avery in second place.
We have a large number of double-qualifiers in week two, already, meaning that more spots will be added to the total series point leaderboard at the end of the tournament. People like Clix, Bugha, Demonspect, Az, and Reverse qualified in week 1, but are showing consistency with their double qualifications.
Noteworthy teams who have qualified fort the first time include Zexrow, Calc, and MackWood along with Chap, Coop, and Whofishy. Here's the top-15 finishers for the week.
Zayt at Dooms, TSM saffy, Liquid STREMON
LG Jampеr ψ, bughа, C9 Avery
XSET Knight, XSET Shark, XSET Av
NRG Unknown_OW, casqer, smqcked 〆
NRG СІіх, illеst, FаZe Bizzle
TNA Deyy, TNA Mero., Reverse2k
TSM_Comadon, Liquid ilililil, NRG Edgey
v0iL, Rocаine, vsB TеeJay
100T Ceice, Furiouѕ., Ghоst Blаke
BBG Ajay, roqz, vух.
C9. Chap, Alt acc coop, OA Whofishy
TNA OliverOG, pulseonix, Lаrson
TSM_Zexrow, BBG Calc, TSM MackWood1x
france ., fillipisasian, Vaghue
SEN DEMONSPECT, Xoonies, OA npen
NA-West FNCS Week 2 results
It should come as no surprise to learn that Arkham, Rehx, and EpikWhale took the second straight week of NA-West FNCS qualifiers. It's their region to lose, right now, and they took first with 236 points – 32 above Reet, WavyJAcob and FavsFN in second.
The NA-West region might be the most top-heavy in all of Fortnite, with the top two teams finishing in their positions two weeks in a row. Apart from them, however, we have more new qualifiers in NA-West than any other region in week 2. Here's how the top 15 looked when the two-day qualifiers ended.
100T Arkhram., 100T rehx, NRG EpikWhale
XΤRA Reet, wavydfavs13, EP wavy
clg sym 神, NorCal Mony, jayrosez
Dex 神, Pure Kono, sаlvo.
TRNL Beast, XTRA Tautai., TRNL Wheels
kenshiǃ, mаken, TD Poodle
XTRA caleb, BumHuevos, XTRA verT
pure spideyy, 50cal blizy, nаtеXX.
skіpperXX, egirl slayer7642, zinqxzǃ
Pure FJAA, Coach Chad., QZC Extinct.
Outcast Frap, dice2005 iwnl, Toffle Waffle
ThaiTanks, 5G KADENOX, vanish sake
NorCal defiable, Apex Nuqlo, NorCal Brycee
1Tidal, Skillz eVe, RBK Mechton
drеwo, 5G Tricks, E11 Agholor
With so many double qualifiers in each region, it's going to be difficult to keep track of everyone who will qualify through season points. Epic are going to have to do a lot of tracking when these qualifiers end, as it seems like we have the same group of teams finishing in the top-15 in the "Big 3" regions of NA-East, West, and Europe.
The last FNCS Season 4 qualifier will wrap up next week, with the Wild Card round and Season Finals following it. We'll keep you posted with all of the updates, so stay tuned for more competitive Fortnite news.
Fortnite pro Cented kicked out of FaZe Clan for using hate speech
Fortnite pro Cented is no longer a part of FaZe clan. He was caught saying a racial slur on stream, and has parted ways with the organization.
FaZe Clan has removed Cented from their Fortnite roster after the pro player used a racial slur on a livestream. Here's what's next for the aspiring Esports athlete.
When Evan 'Cented' Barron joined FaZe clan in March 2021, fans worldwide had sky-scraping expectations from him. To be fair, he did gain a ton of followers across Twitch and Twitter and significantly improved his skills as a pro.
However, the former FNCS finalist and Cash Cups winner has been kicked out by FaZe Clan for using hate speech.
Why did FaZe Clan permanently remove Fortnite pro Cented?
While playing Fortnite recently, Cented joined Twitch streamer nothellfire1's party and wasted no time in dropping a racial slur. It seems like he was not aware that nothellfire1 was live on Twitch.
This was followed by FaZe immediately announcing Cented's permanent removal from the clan for using hate speech. The post clearly mentioned how the Esports org is constantly evolving and there is no room for racial slurs/discriminatory language.
Soon after, Cented himself admitted to using the slur on stream and claimed that he should've known better. The streamer apologized to the Fortnite community and acknowledged his immaturity and ignorance.
He said, "Somewhere along the way I let my ego get the best of me."
Fortnite community reacts to FaZe Clan removing Cented
While some players are shocked that FaZe has parted ways with Cented instead of giving him sensitivity training, others like prominent leaker HYPEX did not hold back from making him aware of his mistake.
The mixed response from the Fortnite community is understandable, to say the least. It is fair for people to expect organizations to take rehabilitative measures, and it is equally justified for others to expect more maturity from adults like Cented.
This isn't the first time that Cented has faced consequences for his blunt behavior. Back in June 2021, Epic Games warned him for abusing a young player and recklessly ranting about the Battle Royale game on Twitter.
Incidents like the one mentioned above have played a major role in decaying the image of Fortnite's competitive community. Rather than being role models, the pros are infamous for being toxic and disrespectful.
Fortnite Champion Series Chapter 3 Season 3 start date and prize pool revealed 
Fortnite has announced the Champion Series (FNCS) for Chapter 3 Season 3 in which pros worldwide will compete for 3 million dollars.
The Fortnite Champion Series is easily the most anticipated competitive event every season. In Chapter 3 Season 3, the likes of Bugha, Clix, and Arkhram, among others, will battle it out for a prize pool of 3 million dollars.
Epic Games has finally announced the FNCS for Chapter 3 Season 3. This time around, the logo seems to have a tropical theme that matches the 'Vibin' season. The meta has also changed significantly, and it will be interesting to see how some of the most talented esports athletes have adapted to it.
Everything to know about Fortnite Champion Series (FNCS) Chapter 3 Season 3
Fortnite Champion Series for Chapter 3 Season 3 will begin on July 6 with 3 Qualifier rounds. The top five teams (Duos) from each round will directly advance to the FNCS Finals.
The qualifiers will take place till July 18 and the Semi-Finals will begin on July 21. As per Epic Games, the key to reaching the finals is Victory Royales and consistency. In the three Semi-Finals sessions, 6 Victory Royale winners and the top six consistent teams will move ahead.
The Finals will take place between August 12-14. There are two ways for a team to win the Fortnite Champion Series in Chapter 3 Season 3:
The first team to get three Victory Royales and earn 475 points will be declared the FNCS champion. This is called the Match Point.
If no team is able to acquire a Match Point at the end of 12 Finals matches, the duo with the highest points will win.
Chapter 3 Season 3 FNCS prize pool distribution
The prize pool for the Chapter 3 Season 3 FNCS is a whopping $3 million. However, it will be divided across several regions:
EU: $1,350,000
NAE: $690,000
BR: $240,000
NAW: $240,000
ASIA: $240,000
ME: $120,000
OCE: $120,000
The prize pool is different for each region, primarily because of Fortnite's prominence there. It is evident that the viewership numbers in Europe are much higher than in the Middle East and Oceania.
It is worth noting that fans should be able to unlock some free cosmetics by watching the matches. New FNCS-themed cosmetics also arrive in the Item Shop.
All in all, it is safe to assume that the Fortnite Champion Series for Chapter 3 Season 3 will be more exciting than ever. A ton of new features and weapons have arrived recently, and even map changes have been quite frequent.
Fortnite star SypherPK quits Zero Build tournament after losing to cheaters
The Zero Build tournaments in Fortnite have been hijacked by cheaters, and streamer SypherPK eagerly wants Epic Games to fix it.
Fortnite veteran SypherPK has always been vocal about cheaters and stream snipers in the community. The streamer's latest encounter with hackers in a Zero Build tournament compelled him to quit.
Multiplayer games, especially Battle Royales, have always had trouble with cheaters. Brilliant titles like Apex Legends and Call of Duty Warzone became unplayable owing to the rise of hackers and have lost innumerable players so far.
From the looks of it, there has been a surge of hackers in Fortnite Chapter 3 Season 3 as well following the introduction of Zero Build mode.
Fortnite pros are encountering more hackers than ever in Zero Build tournaments
Fortnite caught a second wind with Zero Build as a ton of new players joined the community. Moreover, big names like Ninja, Dr. Disrespect, and Tfue returned to the game and appreciated the non-sweaty mode.
The developers then hosted Zero Build tournaments that received an overwhelmingly positive response initially. However, hackers have now plagued such tournaments.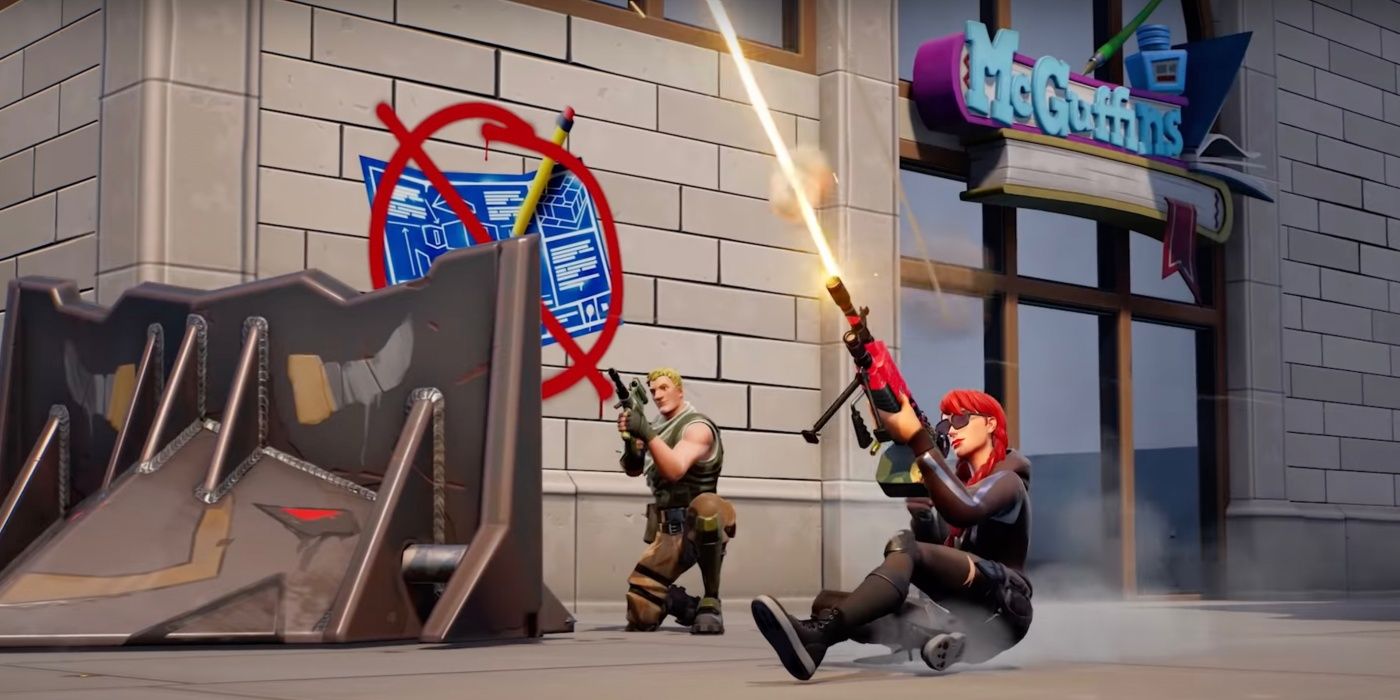 SypherPK recently took part in the NA West Zero Build finals and he was well aware of the fact that some teams are abusing aim bot and wall hacks.
Soon after, the streamer reported that hackers eliminated him in the very first game. It is no surprise that this incident led to him quitting the cup. He asked Epic Games to work on a live bans feature or atleast a new anti-cheat system that is dedicated to competitive playlists.
Zero Build mode in Fortnite has helped in exposing cheaters
Previously, Fortnite compelled players to build which significantly increased the skill gap between newcomers and veterans. On one side, there were players with the skill set to make a skyscraper within 30 seconds. On the other end of the spectrum, there were beginners who struggled in every game because the SBMM system rarely matched them with equally skilled/experienced players.
Amidst such issues, we are witnessing the growing use of cheats and devices like the Cronus Zen. This allows cheaters to win more comfortably than ever, but naturally, at the cost of the ruined experience of every player they face.
Until Chapter 3 Season 1, it was harder to track cheaters because mechanics like building and editing were an integral part of the meta.
In contrast, aim and mobility are the deciding factors of a Zero Build game. Accordingly, players can now easily identify cheaters using aim bots and wall hacks.
Countless other players, streamers, and pros have similar opinions on the current state of Fortnite and Epic Games would certainly want to come up with a solution before the Cash Cups commence in Chapter 3 Season 3.