Meet The Final Hoss, the captain of Upstream Legends and creator of fish puns
If you spend time on Fortnite Twitter, you have probably seen The Final Hoss' unique fishstick designs for various streamers.
This is part of our new series where we interview the creative members of the Fortnite community who make the concepts and designs that make this community so special. For part one, read up on Easkate – the UI designer who perfectly matches Fortnite's art style.
He has had his #UpstreamLegends designs picked up by Ninja, Dr. Lupo, Timthetatman, SypherPK and more. The unique aspect of the work combined with the attention to detail in logos and teasers has made him one of the most popular Fortnite concept artists in the scene.
What a codly squad! Another seashoreganization has joined the#upstreamlegends – tanks for being good sports! 🐠 🐟 🐠 🐟 #teamliquid #teamlitsquid @72hrs @Poach @LiquidChap @VividFN pic.twitter.com/3BhdNDgwcl

— The Final Hoss (@TheFinalHoss) June 30, 2019
We interviewed him about his designs, where they came from and what's next for him in the future. He also promised to tease his next design in the comments to this post.
Interview With The Final Hoss
Q: Where did the inspiration for Upstream Legends come from?
A: One day the name "Dr. Fishrespect" popped into my head. I was in the middle of a similar campaign of posts at the time (SypherPK Battlepass) so sat on the idea for a few weeks & continued to laugh out loud at when visualizing how ridiculous Dr Fishrespect could be."
As soon as that campaign wrapped, Dr. Fishrespect was the first thing I wanted to make. The community had a decent response so I thought there might be something to this. A day or two later Fishstick appeared in the Item shop & the first comment I saw below fortnite's itemshop post that night was from HighDistortion saying something like "use code HD and ill finally by this dumb fish."
That's when "HighFishtortion" popped into my head & I laughed so hard I abandoned another concept I was doing to make Jimmy into a fish, create the Upstream Legends logo & the rest is fishetory."
Going back to the beginning of the series you can see how much his popularity – and fish puns – have grown over the campaign:
Jimmy @HighDistortion the Solo squad god, meet Swimmy HighFishtortion, the solo squad Cod#cringegame100 #fishstickfriday #highdistortion #streamer #fortnite pic.twitter.com/5FbdhvIf0B

— The Final Hoss (@TheFinalHoss) May 24, 2019
Q: What was your first reaction when you saw they got picked up by Ninja and some other huge streamers?
A: The morning that Tim, Ninja & Lupo all discovered Tim the Troutman, Ninja & Dr. Blupo on twitter I couldn't believe it. It became really surfreel when I jumped on twitch and they were actually giggling about the their ploppleanglers. Dr. Lupo is the Dad joke God so having these guys laugh at of the concepts reely gassed up U.S.S. Legends for the journey ahead.
Wait… @Ninja pic.twitter.com/Wi9weS0x8b

— timthetatman (@timthetatman) May 31, 2019
Why are these skin concepts freaking amazing LOL https://t.co/2haIc5TgZR

— Ninja (@Ninja) May 31, 2019
From that point streamers started paying attention. Some would ask if they could get one coming up and most would reply when their design went live.
Lmfao dude you are a clown! 😂👊🏼

— Nickmercs (@NICKMERCS) June 2, 2019
Starting with just a couple hundred followers, The Final Hoss timeline started going crazy as he quickly added 3,000 new followers.
Q: What is the design process? How do they start, what tools do you use to create them, how do you come up with so many great fish puns, etc?
A: "I'll usually start with some really simple sketches to start to try and come up with ways to bring the streamers quirks to life. Once that's on paper, I use a combo of Blender, Photoshop, & After Effects to experiment with the concept until I feel like its decent enough for the community to understand it."
There's been so many concepts – it's been important to work quickly and be flexible to pivot when needed. At this point I think my brain just processes my thoughts as fish puns… but If the content isn't punny enough, Ill check some rhymezone and word association lists for inspiration. The community has also been krilling it suggestfins. 72 Flounders (72 hours) was one that someone said very early on that I had me dead."
Welcome @72hrs to the #UpstreamLegends!

72 Flounders has been a MegaloTom in the Fishnite Procean since the beginning – originally as part of Faze Clam and then eventually migrating to team LitSquid where his legasea has become whale known.#liquid72hours #Fortnite pic.twitter.com/sHTkwEJvKr

— The Final Hoss (@TheFinalHoss) June 30, 2019
Q: The Legends are almost done with the second group. Are you going to keep doing them or turn your attention to something else?
A: Creating the Upstream Legends been a long, amazing voyage & I've loved how the SeaSports Community has climbed aboard… but I'll have to leave everyone in seaspence for now. We'll have to see where the waves take us, but we all know that there's always more fish in the sea.
After creating 32 different streamers as fish, it is probably a good time to take a break. Otherwise his brain may permanently start speaking in fish puns.
Q: Who do you have on deck? Mind sharing your next teaser with us?
A: I think the SeaSports Community will be excited about the next legend- It's one that everybody nose, and seems has been seaquesting for a few weeks now… I'll drop the teaser in the comments below!

Fortnite fan creates amazing in-game Spotify player concept and players want it
An amazing concept between Fortnite and music streaming service Spotify has fans go crazy. Here's more details on that.
Fortnite concept artists are always one step ahead of the ideas that the developers think of and bring popular fan requests to life with their art. Recent concept art shows a music player in the game linked to Spotify that has stirred a conversation amongst the player base.
Ever since Fortnite added new features to the game like Party Tags, the expectations of players have gone through the roof for developers to add more to the game. However, Epic does not usually make a major change to the game every month until the launch of a new season.
While certain gameplay features that were newly added, Sprint and Mantle have been quite famous among the Zero Build community, the Gyro and Flick Stick were not received well after their launch. As new players are joining the loop every day and getting themselves familiar with the game, Epic Games are trying its best to make the UI of the game simpler.
However, a recently surfaced concept art created by a Fortnite fan went quite viral as it shows an in-built music player linked to Spotify that would be a cool feature in the game if added. Here's how the community reacted to it.
Spotify Player concept in Fortnite goes viral
Famous Fortnite leaker FNBRIntel recently tweeted a concept of a built-in Spotify music player in the game menu that can play any song the user desires. This would then eliminate the need for Lobby Tracks or Music Packs Fortnite provides its player base within their lockers.
Using this option would enable players and content creators to play copyrighted audio and their favorite songs in the game while they are queueing up in the lobby or playing a match with their friends, much like Rocket League has it. However, this would in turn cause major distractions to pros and sweats who even turn off radios in Fortnite vehicles.
Another player added a concept of a free Spotify-themed wrap that can be given out to those who link their Spotify accounts to Epic. Moreover, this would also increase the number of users on the streaming platform.
While PC players can play songs on Spotify using the multitasking feature, PlayStation players also enjoy the same with a built-in player on their PS menu. This allows them to play their favorite music while playing any game on their consoles.
As this concept would be a really cool feature for Epic to add, it would end the value of Lobby Tracks the game sells in the Item Shop or provides its players via the Battle Pass or certain limited events. Another major drawback would be to streamers and content creators who cannot use copyrighted audio on their streams to keep their content fair on a specific platform.
Subway Surfers officially reacts to crazy Fortnite collab concept
A handful of notable franchises are yet to collaborate with Fortnite including Subway Surfers. Here's why this could finally happen.
Fortnite players love coming up with concepts, especially related to crossovers. A Subway Surfers concept went viral recently and it was good enough to catch the attention of the developers.
It wouldn't be an overstatement to say that Subway Surfers is one of the most ground-breaking games in history. It popularized the endless runner genre and has been downloaded by literally billions of players.
Crossovers now define Fortnite, and here's why a collaboration with Subway Surfers could be closer than ever.
Subway Surfers' concept imagines Tricky as a Fortnite skin
Subway Surfers has introduced a wide range of characters since its launch, and fans love them all for unique reasons. As it turns out, Fortnite artist Anhel admires Tricky and accordingly, he turned her into a skin.
Anhel's Fortnite x Subway Surfers bundle included these items:
Tricky's outfit
Subway Surfers spray
1500 V-Bucks
Subway Surfers' Jetpack back bling
Subway Surfers' theme song album
To be fair, this is a flawless bundle for any Subway Surfers fan. The mobile game has many elements that can be incorporated into Fortnite, and an official crossover is almost guaranteed to be a massive hit.
Subway Surfers' official Twitter account reacted to the aforementioned concept and even tagged Fortnite asking about a collaboration. Naturally, this was enough to ignite the hopes of countless fans who love both franchises.
Subway Surfers' policeman catches Jake with Fortnite's builds in fan-made clip
It is evident that the Fortnite community is eagerly awaiting a Subway Surfers' collab. Popular modder Brux uploaded a clip on YouTube that perfectly blended both the games and it already has over 250k views.
Brux somehow gave the policeman building and editing abilities who then used them to catch Jake within 10 seconds. To say the least, it was the perfect representation of a Fortnite sweat.
Brux is clearly one of the most talented modders out there. It is safe to assume that such content will become more common with Creative 2.0 which should be available before 2023.
Now that Subway Surfers has officially reacted to concepts, it wouldn't be a surprise if the collaboration with Fortnite takes place soon. As of now, the Fall Guys collaboration has been leaked and loopers can look forward to completing Crown Clash challenges for free rewards.
Fortnite concept art reveals amazing scrapped ideas for Sanctuary, Mothership UFO, and more
Fortnite confirms the design of map locations after inspecting a ton of concepts, and here are some brilliant ones that didn't make the cut.
Fortnite could have been an entirely different game if Epic Games had approved some awe-inspiring concepts by Gervasio Canda for POIs like Sanctuary, Zero Point desert, Primal Village, and Coliseum, among others.
Artstation is a platform that lets users view countless artworks by some of the most talented artists in the world. Fortnite concept artist Gervasio Canda, who is a senior concept artist at Epic Games, is also a part of the Artstation community.
Over the years, Canda has submitted several brilliant concepts on the platform, and Fortnite players have been admiring them all.
Fortnite players feel robbed after witnessing the unreleased concepts for prominent locations
Fortnite is known for its unique cartoonish design. The island has a vibrant color theme, and there are several goofy elements that help the game stand out.
Players around the world haven't really complained about the existing Chapter 3 map. In fact, the majority of the community considers the Artemis map to be much better than Apollo (Chapter 2 map).
However, players are also feeling a little disappointed that some of Gervasio Canda's concepts didn't make the final cut. For example, Sanctuary wasn't just a forest with scattered buildings. Instead, the Foundation's statue had a high-tech research lab inside it and a massive rusty ship rested on the shore.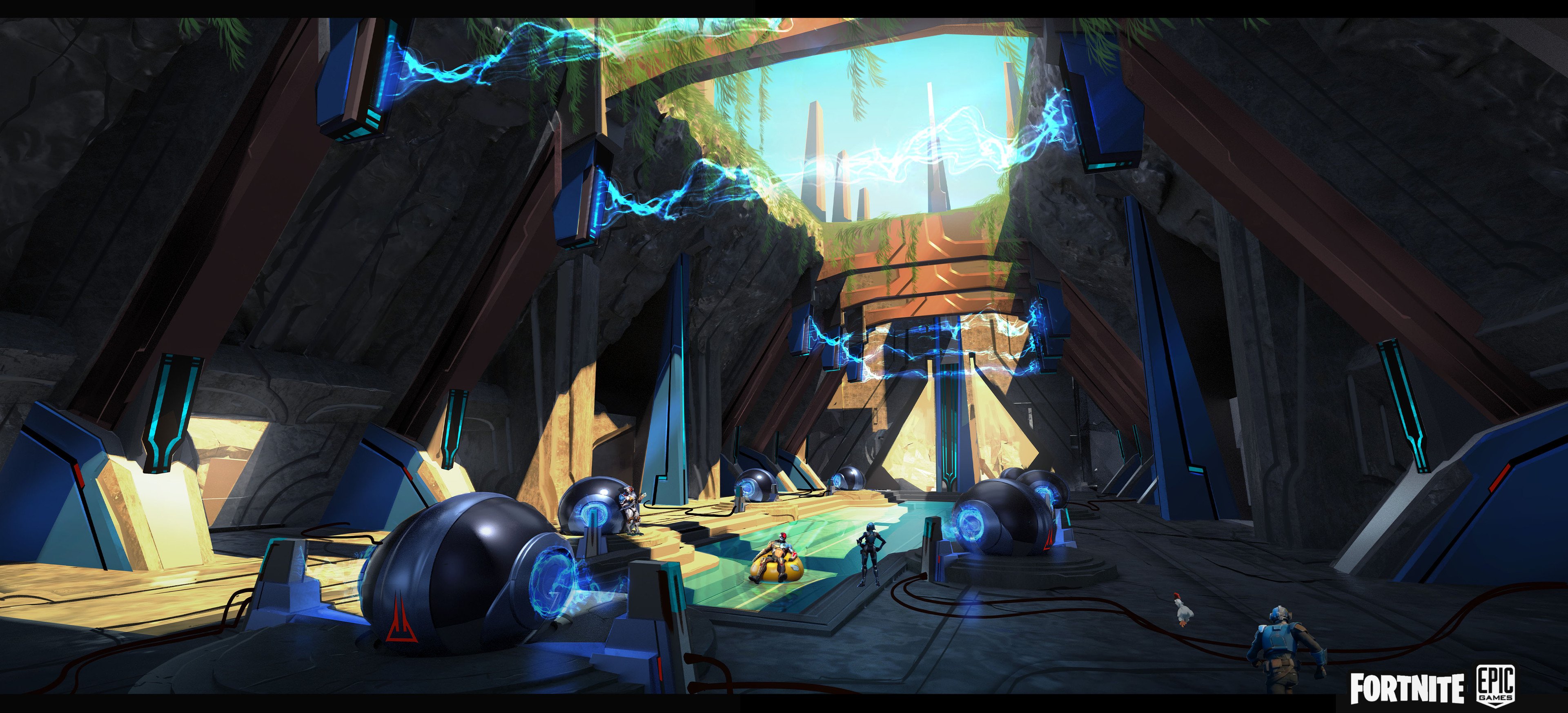 We currently have an empty beach near Sanctuary but in the concepts, there's a well-planned village with several shacks near the shore.

The concepts have not only revealed the Chapter 3 POIs but also major Chapter 2 locations like the Primal Village from Season 6, the Zero Point desert, and Coliseum from Season 5.
The concepts are full of details and loopers are perplexed over the fact that Epic Games rejected them. They believe that the Zero Point desert in Chapter 2 Season 5 was rather bland, and Sanctuary and The Joneses in Chapter 3 can certainly have more details.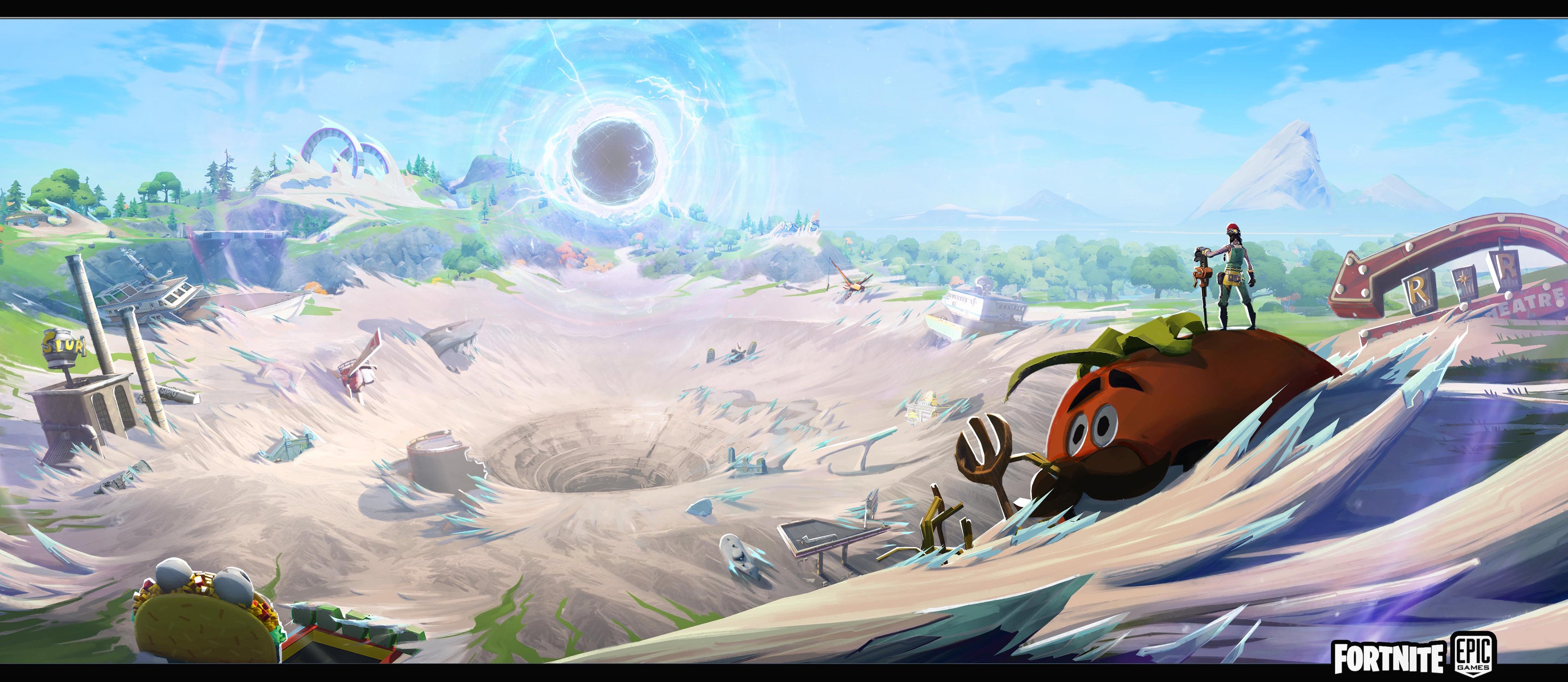 Why did Epic Games scrap the most breathtaking Fortnite concepts ever?
Aesthetically, it is hard to even compare the aforementioned concepts and the actual Fortnite POIs. A number of plausible reasons for Epic Games not finalizing them could be factors like map size, combat, storyline, and in-game mechanics.
While making a location, the developers not only have to make it look good but also place loot and other components that grant mobility. Moreover, adding heavily detailed locations could have increased the game size significantly.
Although it is impossible for loopers to ever witness the Chapter 2 concepts in reality, we can still get The Seven's high-tech labs. There's a closed bunker under The Foundation's state, and players now have sky-scraping expectations from whatever is hiding inside.